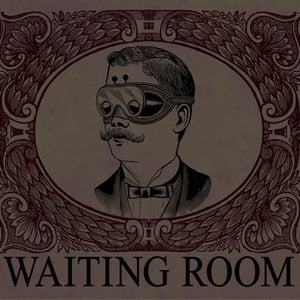 $

8.00
Four-panel CD digipack. Limited to 200.
1. Me, Fatty, Sideburns Lady and the Mutants Over at Table Nine
2. A Tale of Betrayal and Deception
3. Hold Fast
4. 'Till All Are One
5. I Still Function
6. Doesn't Gil Get A Lick?
7. Celephais
Waiting Room came to be in mid 2010 from both experienced backgrounds and fresh beginnings, soon after devising their own slant on melodic hardcore punk. Off the back of a four-track demo the five-piece began gigging all over town, with a song soon after featured on the 'This Is Brisbane' compilation alongside many of the city's finest up-and-coming hardcore groups. Their self-titled EP is seven tracks of truly passionate punk rock that shines above with bouncy riffs, metallic tinges, harrowing screams and even slightly progressive inclinations. Recorded on the Gold Coast by Sam Saljooghi (Ghost Town), the EP was mixed and mastered by the hands of John Naclerio, who has previously worked with the likes of Shai Hulud, Polar Bear Club, Brand New and dozens more.